WURD Radio (96.1FM / 900AM / WURDRadio.com / WURD App), the only African American owned and operated talk radio station in Pennsylvania, and one of a few in the country, has announced that Mark Kelly Tyler and Denise Clay have transitioned from hosting the Wake Up With WURD morning show on WURD Radio.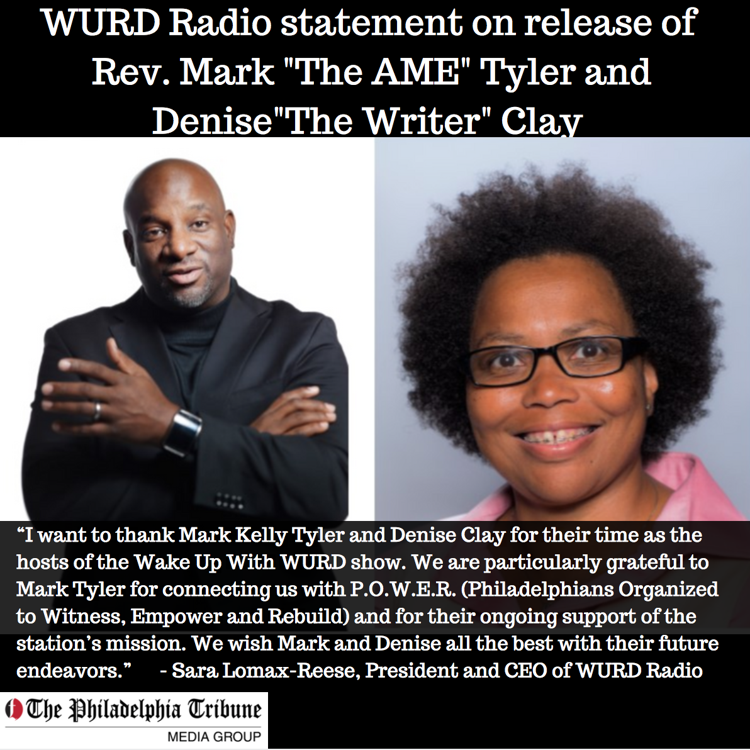 "I want to thank Mark Kelly Tyler and Denise Clay for their time as the hosts of the Wake Up With WURD show," said President and CEO of WURD Radio Sara Lomax-Reese,. "We are particularly grateful to Mark Tyler for connecting us with P.O.W.E.R. (Philadelphians Organized to Witness, Empower and Rebuild) and for their ongoing support of the station's mission. We wish Mark and Denise all the best with their future endeavors."
Celebrating its 15th anniversary in 2018, WURD Radio is excited about the year ahead. Christopher "Flood the Drummer" Norris, a part of the previous morning show team, co-host of the Pushback Podcast jointly produced by WURD Radio and Philadelphia Magazine and longtime on air contributor to WURD, will be serving as the guest host on Wake Up With WURD this week.
This week, WURD will be soliciting real-time feedback from the listening audience about what they envision for the new morning show.
"We are excited about the new year and look forward to exploring new ways to expand and engage with the WURD family," said Lomax-Reese.
For more information about WURD's on air, online and in the community programs, visit WURDRadio.com and follow WURD Radio @onWURD or #onWURD on Twitter , Facebook, Periscope , Tumblr , YouTube and SoundCloud . Tune in at 96.1FM and 900AM in the Philadelphia area and worldwide at WURDRadio.com or the WURD Radio app for your smartphone or tablet device.