People gathered Tuesday inside Irvine Auditorium at the University of Pennsylvania to listen to a panel discussing Philadelphia's criminal justice system and Meek Mill's incarceration.
The discussion, "REFORM: Bringing Injustice to Light," was opened by Equal Justice Initiative Executive Director Bryan Stevenson.
A discussion of the rapper's probation and now incarceration was lead by his attorney, Joe Tacopina, along with the rapper's mother, Kathy Williams, and the Rev. Al Sharpton.
"It's been injustice from Day One," Tacopina said, citing Common Pleas Court Judge Genece Brinkley's involvement on the Mill case.
"From the treatment of this judge, to the treatment of the former probation officer who was bounced off the case, to a clerk under the judge's watch asking Meek to pay her son's college tuition while he is defended in the courtroom, to this latest development, just has never ending twist and turns, none of them good," he said.
Mill called in during the event from the state prison in Chester thanking his supporters for coming out.
His mother called for help from the Philadelphia District Attorney's Office, putting faith in the city's top prosecutor, Larry Krasner, to act on her son's case.
"If I could come see him every day, that's what I would do," Williams said during a press conference before the event.
Williams did not speak fondly of Brinkley, the judge who has overseen Mill's probation.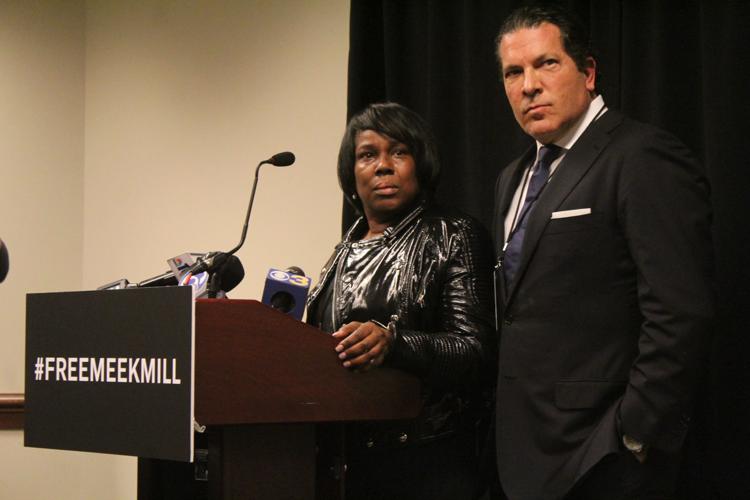 "My son always promised that he is going to be there for me, but this lady [Brinkley] it's like, I'm left alone, with the way they are running my son's life," she said.
Williams teared up during the press conference as she talked about undergoing an operation and Mill was unable to visit her.
The panel discussion that followed heard from several community leaders and attorneys, including Bradley Bridge, an assistant defender at the Defender Association of Philadelphia.
Bridge talked about police corruption in Philadelphia, saying that such cases in cities, specifically in Philadelphia, are "not new."
In Mill's case, Reginald Graham, the officer who played a role in the rapper's arrest, was on the district attorney's list of troubled police officers.
Mill was arrested for illegally possessing a firearm and was convicted of drug dealing in 2008. He ended up being beaten by police, but a statement given by two police officers resulted in Mill receiving assault charges. The officers claimed the rapper chased them with a gun and threatened to kill them.
He was sentenced to 11 to 23 months in prison, but was released on a five-year parole agreement. Since then, Mill has been arrested four times for parole violation.
"It's been around Philadelphia unfortunately for a very long time," Bridge said at the forum. But, Bridge noted it was "refreshing" to see changes come to DAO.
Joanna Visser Adjoian, a founder and co-director at the Youth Sentencing and Reentry Project, talked about young people getting caught up in the criminal justice system at an early age, similar to Mill's situation.
Adjoian is looking for the city to take steps in bringing an end to youth and teenagers being put in adult prisons.
"We would like to see real progress around moving the kids that are sitting in adult jails out of the facilities that are not designed for kids," she said. "That's just one of the examples we are hoping to see under his [Krasner] new administration."