Members of the Philadelphia Community Bail Fund posted bail for nine people on Wednesday at the Criminal Justice Center during their "Black Love Bail Out" for Black History Month that focused on releasing Black community members being held on cash bail.
Eight people were released from cash bail on Wednesday while the other will be placed on house arrest, according to Cara Tratner, of the PCBF.
The effort comes in light of Philadelphia District Attorney Larry Krasner's announcement that the District Attorney's Office will no longer pursue cash bail for low-level crimes.
Tratner said many of the people being held on bail have been sitting in jails for almost five months, simply just because they could not afford to leave.
She noted the age of some of those released on Wednesday ranged from 19 to 27.
"We see ourselves as community organizers that are filling in the gap there the city is not performing, which is getting people their freedom," Tratner said.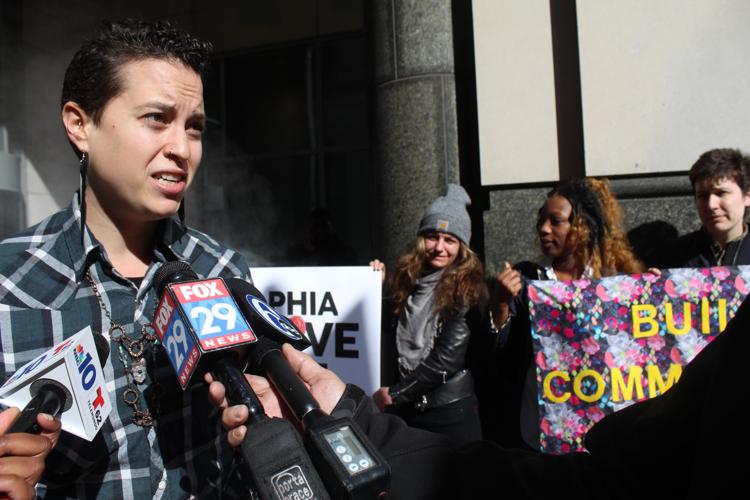 "I think we are hoping to humanize the people in jail on these very high bails to show how a horrible system this is. We want to show these are people who have families, jobs and apartments that are getting disrupted because of the time they spend in jail. Them getting out actually makes their family and communities safer," she added.
The PCBF was started in the fall of 2017 and since then, it has bailed out 35 people. With latest releases, the total was pushed to 43.
Tratner said the bails posted Wednesday were "well above" $10,000 each — higher than many of the 25 charges that are listed. Tratner notes those charges are typically $10,000 or lower.
Some of the money came from the National Bail Out Collective (NBOC), an organization that Tratner says is run by Black women and organizers throughout the country and that focuses on fundraising at the national level to support local bail-out actions.
NBOC also raised money "on the ground" in local Philadelphia communities and received help from individual donors.
Joshua Glenn, 29, of the PCBF, was at the press conference last week when Krasner announced his office was no longer pursuing cash bail. Glenn said the group also believes that even though the DAO is not pursuing cash bail for low-level offenses, the PCBF believes that "no one" should be held on cash bail.
Glenn said the things that Krasner's office announced last week would not have helped those whose bails got posted on Wednesday.
Glenn recalled being held on cash bail at age 16 and being placed in an adult prison, where he stayed for 18 months during the pre-trial process until his case was dismissed. Once he got out, he tried to get into public school but had issues because he was charged as an adult.
Glenn, along with other PCBF members, believes that the cash bail system puts people and their families in "desperate situations" as they try to find enough money to post bail.
"I wasn't found guilty of my charge, but, I still couldn't get a job because every time I would go for an interview they would say that it shows that I was locked up and charged as an adult," Glenn said.
"So I know there is a lot of barriers. You don't even have to be convicted to have those barriers. They show up," he added.
Glenn said that although people were released Wednesday, they faced several hurdles such as applying for jobs because of the charges had not been expunged from their records.
"It doesn't get expunged unless you go get it expunged, so you have to get an attorney to work on that to expunge what ever the offense was that is on your record," he added.