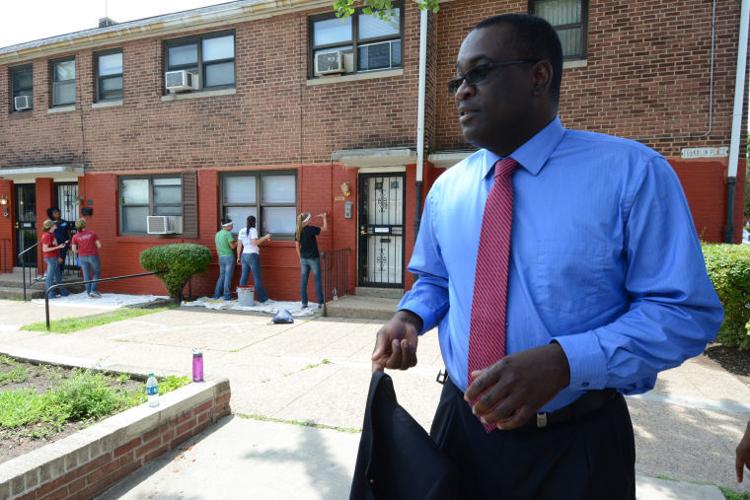 Damon C. Williams
Tribune Staff Writer
The Philadelphia Housing Authority has negotiated an agreement with construction unions that's expected to significantly reduce costs for building affordable-housing.
"This is an historic agreement that has been reached between PHA and the Building and Construction Trades Council [BCTC]," said Kelvin A. Jeremiah, PHA president and CEO. "The agreement is beneficial on many levels for PHA — not only will the reduction in labor costs aid PHA in its goal to provide 6,000 affordable-housing units in five years, but the agreement will also help secure more jobs for PHA residents, women and minorities."
The agency and the trades council have agreed to a 20-percent reduction in construction wages and benefits, which will enable the authority to build six family homes for needy families for the cost of five. The agreement runs five years and covers construction and major rehabilitation projects of more than $5 million.
"We are excited to be a part of this historic agreement that brings stability to our workforce," said Sam Staten Jr., business manager for Laborers Local 332. "We look forward to our continued partnership with Kelvin Jeremiah and the Housing Authority and being a part of the solution to bring more affordable housing to Philadelphia."
PHA, established in 1937, is the fourth-largest public housing authority in the nation and ranks as Pennsylvania's largest landlord. It has an annual budget of $371 million, serves 81,000 people with affordable housing and employs roughly 1,400 people.
The authority has more than 50 developments in its portfolio, more than 4,000 occupied scattered housing units and manages the successful Housing Choice Voucher Program, with more than 16,000 households enrolled.
The agreement also requires the employment of PHA residents, as well as women, and includes work rules that promote efficiencies and the timely completion of construction projects.
That clause supports the public housing authority's long-term vision of creating employment opportunities for its residents and other under-represented groups. Twenty-five percent of all employees covered by this agreement will be PHA residents, at least 20 percent of all employees will be women and at least 20 percent of all employees covered by the agreement will be minorities.
Mayor Michael Nutter said this is a win-win for the housing authority, the trades, residents and job seekers, and will specifically help Philadelphia in the city's quest to become a premier residential destination.
"By adopting a project labor agreement strategy, the Philadelphia Housing Authority has taken a significant step toward increasing its capacity to build affordable housing in this city at affordable costs," said Nutter, who, like President Barrack Obama, has signed executive orders encouraging the use of project labor agreements (PLA) in connection with large-scale projects to promote economy and efficiency while maintaining high standards of construction. "As the PHA Board noted in the resolution it adopted, our administration initiated a PLA process in 2011, which ensures greater employee diversity at worksites along with timely completion and cost management of major public works projects."
The PHA-BCTC agreement is also in line with City Council President Darrell Clarke's 2000 New Affordable Home Initiative and with Clarke's sweeping Philadelphia Community Sustainability Initiative, which looks to transform many of the city's most troubled neighborhoods.
"This historic agreement between the building trades and PHA means more jobs, less wasteful overtime and more quality affordable housing for Philadelphia residents: A win-win-win," Clarke said. "I am grateful to the building trades and to Kelvin Jeremiah of PHA for their commitment to City Council's workforce housing strategy. The need for affordable housing in Philadelphia only keeps growing, and this agreement brings our goal of 2,000 new units closer to reality."
Contact staff writer
Damon C. Williams
at (215) 893-5745
or dwilliams@phillytrib.com